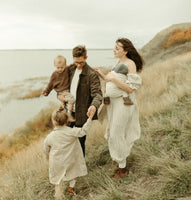 ABOUT DELILAH
I'm a mother, wife, creative, and entrepreneur living a simple, full, life in the Saskatchewan prairies. Creating is what I thrive on. On any given day you will find me writing, filming, photographing, editing, designing, even filling my down time with hobbies such as knitting and scrapbooking.
Since becoming a mother in 2017 I have made it my goal to document the ups and the downs — never downplaying the realness of everyday motherhood. I have shared our journey on social media and have been greatly encouraged by the motherhood community that evolved from my humble presence.
In November 2015 I married my high school sweetheart at the age of 19. One year later we bought our first house, a 730 square foot fixer-upper that we called home for over 4 years. On our first wedding anniversary I took a pregnancy test, and much to my surprise and utter delight, I saw two dark lines. Our daughter, Eloise Rose, made her startling debut in July of 2017. We were over-the-moon-in-love and our world as we knew it was turned upside-down. Everyday tasks suddenly became a challenge to accomplish and I felt I had to completely re-learn life. It was an experience that left me vulnerable and confused, torn by the love I felt for my daughter and the frustration I felt with myself. Motherhood was not what I dreamt it to be and I vowed to use my platform to educate mothers and mothers-to-be of all the beauty and chaos that it entails.
Nearly 2 years later, in April 2019, our son, Theodore Blythe, made an even faster appearance and settled perfectly into our growing family. Throughout all this we have faced a miscarriage, burnout, house hunting, renovations, and challenges of parenthood that seemed impossible. But we have also seen our Heavenly Father provide for us, see us through, and bless us beyond what we ever could have dreamed. Throughout it all I have documented our life in vlogs, words, and photos, sharing everything with you.
Thank you for being here, for supporting my dream, for your kind words and encouragement. I will never be able to express my gratitude in full but if I could, I would bake cookies for each of you and wrap you in a warm, thankful, hug!
xoxo, Delilah